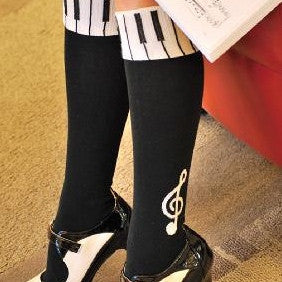 Treble Knee High Socks
In stock
---
Please note, we're temporarily closed due to COVID-19 precautions. Sorry for any inconvenience - we're looking forward to serving you again in brighter days ahead!
---
You will have no treble enjoying these clef-er over-the-knees.
Sizing:  Women's 6-11
Fibre Content:  50% Cotton, 20% Acrylic, 18% Polyester, 10% Nylon, 2% Spandex
Care Instructions: Machine wash warm, Tumble dry low, Do not bleach. *To keep your product lasting longer, we recommend hand washing in cold water.
Additional Info: Images provided by Tabbisocks
Made in:  Japan
---
---